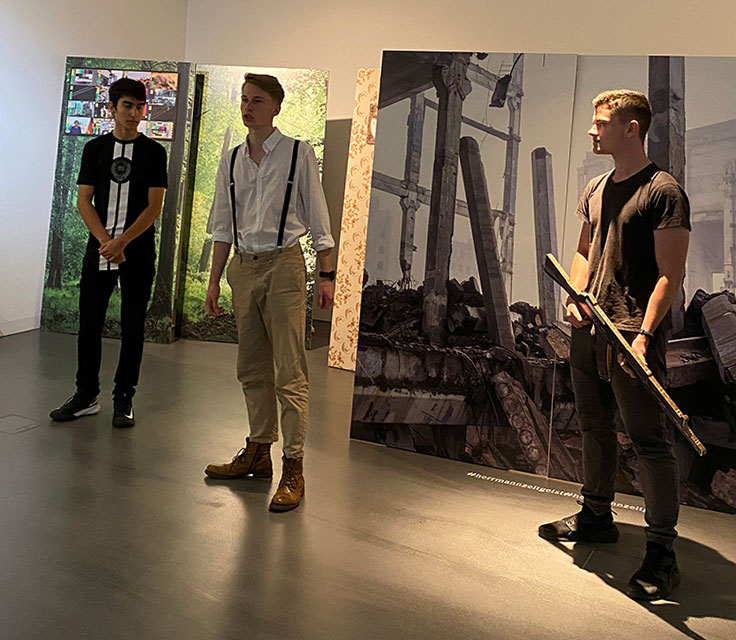 Der DS der 12. Klasse vom Karl-Liebknecht-Gymnasium stellt vor:
Vor der Coronazeit hatten wir uns bereits mit dem Theatersport auseinandergesetzt und insgesamt 4 Auftritte im Theater Frankfurt/Theater im Schuppen e.V. vorführen dürfen. Doch dann kam der Lockdown, unser eigentlicher Plan ein vollwertiges Stück zu spielen war dahin, da dafür keine Zeit mehr war. Frau Dalchau kam auf die Idee, dass wir zur Ausstellungserö nung bei ihr im Kleistmuseum einige passende Szenen spielen können. So kam es dazu:
Drei Szenarien zur Sonderausstellung
"Das deutscheste Drama. Kleist Herrmannsschlacht und der Zeitgeist"
im Kleistmuseum Frankfurt (Oder)
Im Vorfeld haben wir uns von der Kuratorin Frau Dr. Gribnitz eine Einleitung in das Geschehen geben lassen und dann viele Wochen gemeinsam mit unserer DS-Lehrerin Frau Dalchau in der Aula unserer Schule geprobt.

Regie: Leon Marziniak
Herrmann: Constantin von Lonski
Hauptmänner: Ali Nagi, Willy Weigmann, Patrice Bogula
Tusschen: Ronja Nicolas, Helena Pyrka, Ella Weber, Anna-Lena Heidenreich, Paulina Zimmermann, Weronika Wiecek, Hannah Knöfler, Amy Borkenhagen, Maria Friedrich, Liza Heinl, Leann Betker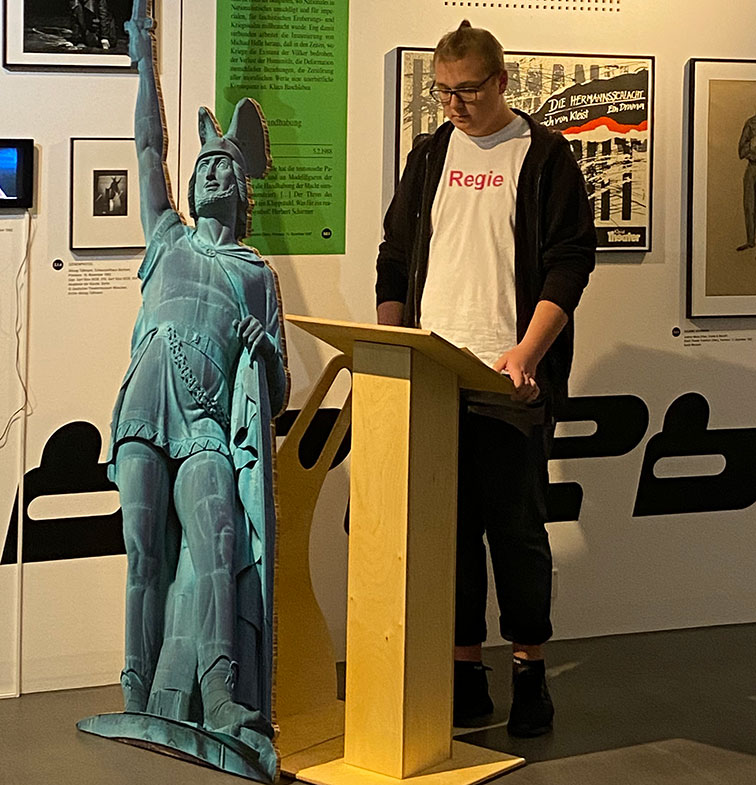 The 12th-grade theatre course of Karl-Liebknecht-Gymnasium introduces itself:
Before the time of coronavirus, we had already dealt with the theatre sport and played altogether 4 times in Theater Frankfurt. But then came lockdown. Our plan to perform a fully-fledged play was ruined, there was no time left for it. Ms Dalchau came up with an idea that we could play a few suitable scenes in the Museum of Kleist during the opening of an exhibition. This is how it occurred: 
Three scenarios to the special exhibition
"The most German drama. Herrmannsschlacht by Kleist and the zeitgeist"
in the Museum of Kleist in Frankfurt (Oder)
In preparation, we got an introduction to the happening from the curator Ms Dr Gribnitz and we rehearsed numerous weeks in the assembly hall of our schoolhouse under the guidance of our theatre teacher Ms Dalchau.  
Direction: Leon Marziniak
Herrmann: Constantin von Lonski
Captains: Ali Nagi, Willy Weigmann, Patrice Bogula
Chicks: Ronja Nicolas, Helena Pyrka, Ella Weber, Anna-Lena Heidenreich, Paulina Zimmermann, Weronika Wiecek, Hannah Knöfler, Amy Borkenhagen, Maria Friedrich, Liza Heinl, Leann Betker