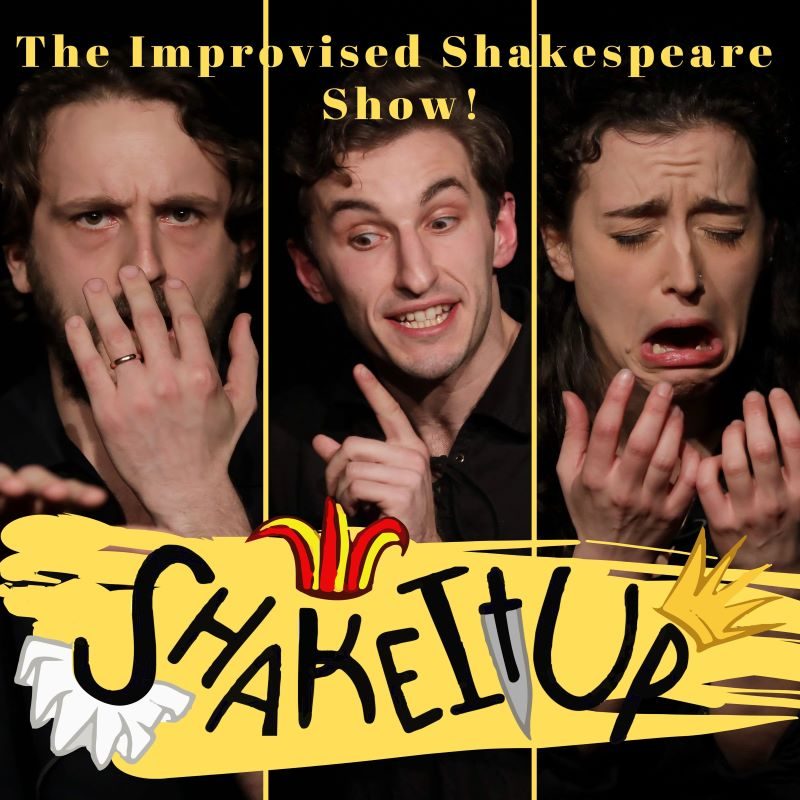 Die improvisierte Shakespeare-Show
Shakespeare hat seit Jahren nichts neues geschrieben, also wir dachten, wir könnten ihm helfen…
Mit seiner Sprache, Euren Publikumsvorschlägen und unserer hyperaktiven Phantasie schaffen wir jeden Abend ein ganz neues Shakespeare-Stück!
Ergänzt mit live Musik, Liedern und viel Lachen, wir schütteln zusammen die Themen, Figuren und Sprache von Shakespeare um einen unvergesslichen Abend zu gestalten, auf den der Barde selbst stolz wäre (… wahrscheinlich!)
Die Aufnahme stammt von European Theatre Festival in Rom (2019).

Schauspieler: Joseph Prestwich, James Dart, Silvia Manazzone, Frederick di Rosa, Edward Kaye
***
ShakeItUp Theatre ist eine seit 2018 aktive Theatergruppe, die sich auf Shakespeare und Improvisation spezialisiert. Die Kompanie betreibt auch Werkstätten für junge Menschen mit Down-Syndrom, Familien, und neulich auch mit den Gefangenen aus Pentonville (London).
The Improvised Shakespeare Show
Shakespeare hasn't written anything new for an age, so we thought we would give him a hand...
Using his language, your audience suggestions and our overactive imaginations, we create a brand new Shakespeare play every single night!
Complete with live music, songs and plenty of laughs, we weave together the themes, characters and language of Shakespeare to create an unforgettable evening that the Bard himself would have been proud to pen (...probably!).
Recording taken from European Theatre Festival in Rome 2019.
Actors: Joseph Prestwich, James Dart, Silvia Manazzone, Frederick di Rosa, Edward Kaye
***
ShakeItUp Theatre is a theatre company that specializes in improvisation and Shakespeare, and have been making theatre since 2018. They run workshops for young people with Downs Syndrome, families, and have recently worked with inmates at Pentonville Prison, London.